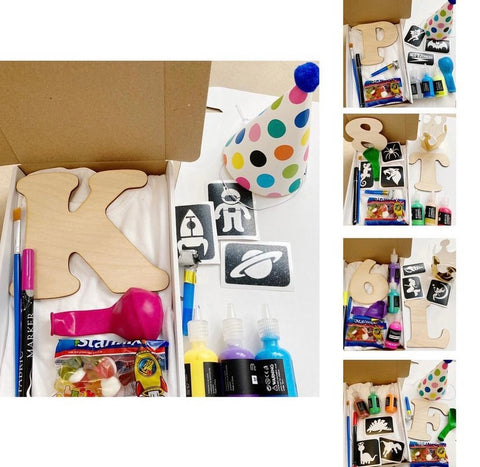 Easter Holiday Activity Inspiration | Things To Do With The Kids
With the Easter holidays in full swing, it gave us the perfect opportunity to publish our first blog post. Another school holiday in lockdown and with certain restrictions still in place in the UK, it is hard to keep the kids entertained at home.
As we're sure you are aware, our whole ethos is about supporting small UK businesses. With this in mind, we have decided to put together some inspiration for activities you guys can enjoy at home with the kids this holiday; as well as supporting small businesses all at the same time.
The Little Leopard Co. Gift Box
Use our 'build your own box' feature to create a goodie box full of treats to enjoy this Easter holiday. Or you could even send a surprise gift box for somebody else to enjoy.
Why not include one of our White Chocolate and Raspberry Traybake kits by The Bottled Baking Co. to make baking with kids that little bit less stressful.
Alternatively, fill a gift box with tasty treats to create a spring picnic in your back garden. We are currently loving our Banoffee popcorn from Joey Koala.

Crafting with kids is always a winner and we are loving these personalised t-shirt painting kits from Me-Shirt.

They have a range of different kits available, including family bundles so the whole family can get creative together. We are eying up the unicorn stencils.

Create your own pom pom bunny
Keep the Easter theme running for longer and get our hands on one of these beauties from Frankly Decor.
Bunnies aren't just for Easter and these pom pom bunnies make the perfect spring decoration for your home.
Another great way for the kids to get creative and make their own decoration.
Crown your child the 'Little Star Baker'
We are all about the the gimmick this brand has created following everybody's love for 'The Great British Bake Off' and their weekly star baker.
A Mother and Daughter small business, Little Star Baker has produced these fun and eco-friendly baking kits, which are perfect for the kids to enjoy during the holidays.
With a range of different themes, we are currently loving the 'Over the rainbow' biscuit kit.
Sneak some education in whilst you can
Craftly made the best fun educational and visual boards for a range of activities.
Whether you have decided to tackle potty training, or need to inject some discipline during these holidays, Craftly have created a range of different reward charts and learning sets, to ensure these challenges become more inspiring for little ones.